Branding and Graphic Design Solutions That Turn Great Ideas into Iconic Visuals"
Our branding solutions blend strategic science with imaginative artistry. We combine data-driven insights with bold creativity to conceive and craft brands that resonate. We strategically define the visual identity, personality, language, and attributes that shape your brand's appeal. Our branding brings together business strategy and creative expression into one compelling story. Whether launching a new brand or revitalizing an existing one, we fuse analytics with artistry. Our meticulously engineered branding solutions enable brands to build meaningful connections and stand out.
Our graphic design brings brands to life across every touchpoint. Leveraging research and analytics, we express a brand's purpose through visual elements tailored to each medium. Whether on a website, product packaging, or ad campaign, our graphics immerse audiences in the brand story. We craft cohesive visual identities, logos, and designs that resonate at each customer interaction. With excellence across mediums, our graphic design elevates brands visually. We combine strategy and creativity to craft immersive graphics that captivate audiences across channels.
Our Approach to developing
memorable brand strategy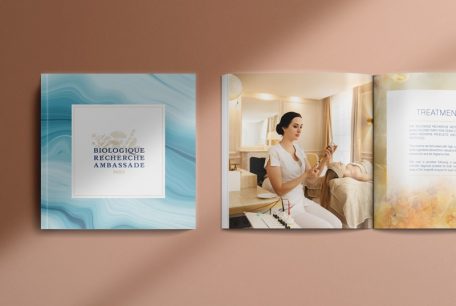 How we design professional brochures & catalogs
A business or sales brochure is an effective and useful tool in providing relevant information to potential customers and clients. It represents your business and company values and offers an insight into how the company, its products, people, clients and work interact and connect with each other.
Its important to properly research, plan and then design and print your marketing/sales brochure produce so it acts as persuasive and informative collateral for your business. To design a brochure well, here are a few recommendations to help you get started:
Establish the purpose & goals of your brochure. What's it for? What are you going to communicate with it? What are the budget and timelines?
Determine the variables of your brochures How many pages should it have, what should be the format, which devices should it be optimized for delivery?
Establish the visual style What is your industry or business, what kind of styling the brochure should have? do you have brand guidelines for printed literature, what is the color palette and typography for the brochure.
Plan the copy & content structure What key topics should be covered in the brochure, what is the tone of language that should be used? how much space will be devoted to each segment?
Select the visual assets Does your brochure need a custom photo shoot or high-quality stock images can be utilized? Does the brochure use illustrations or custom graphics, how all required assets are to be organized?
Assemble all content By this stage the studio will need to assemble and organized all visual elements, copy, logos illustrations, and anything else that needs to be incorporated before they start designing the brochure.
Get the design concept started The creative team starts to translate the raw ideas in a structured and paginated concept that reflects the goals for the collateral and how everything will fit together in a planned and coherent manner.
Get the first draft for approval Once the designers have completed their task, a fully paginated brochure is ready to be assessed page by page and any revisions or modifications required are listed. Once that's done the brochure is ready for printing.
Produce the proofs A proof is a printed version of the brochure to be assessed for quality control and errors. Once the proof is checked and approved the studio will prepare the final artwork which the printing press will need to print high-resolution copies of the brochure.
How to make it shine A great looking brochure can be made to look stunning once it is printed to the best specifications. This would consist of choosing the paper quality, type, and texture, special printing operations such as foiling, embossing, UV, varnish, etc. Depending on how premium your brochure needs to be you could opt for these special printing techniques to make your brochure look rich and premium.
Print it, fold cut, and bind it! Modern printing presses using high-tech machinery to print a large number of copies quickly and automatically, cut, number, position, bind, stitch, and pack the brochure for delivery.
How to create a professional brand strategy
A "brand" is a virtual assurance, an abstract promise, an unstated belief in a product, service, business, or organization. A brand must create a unique and distinctive emotion and feel in the mind of a consumer. Therefore, a brand's goal is to deliver the visual and abstract attributes, philosophy, values, and personality of the organization and its people in a concise, and unique manner. This is the essence of branding. Here is how we go about building brands in the digital era.
• Naming
The brand name is your primary identifier and therefore must reflect the spirit of the business, be catchy, memorable and unique. A lot of thought and planning goes into selecting and interesting name for your brand.
• Brand Discovery
We establish and define the key questions of: what, how, and why? This enables your brand's strategy to align with your target audience, the market place, the competition and your offering.
• Brand Strategy
Brand strategy, simply speaking is a roadmap that indicates the specific goals, benchmarks and standards for the company and how it will differentiate itself from the competition and create its customer experience.
• Competitor Analysis
Analyze and understand your competition, especially key brand collaterals such as their website experience, social media content, online marketing activities, brochures, catalogues and other marketing tools.
• Your audience persona
To successfully tailor your offerings to your marketplace and customers and to successfully compete within your industry, you must understand and establish your audience's persona and demographics.
• Brand Voice
What's the communication style of your brand or business across all customer touchpoints? What's the tone, personality and voice that your audience can associate and recognize with your products and company.
• Brand Messaging
Design and develop key anchor messages and the philosophy of your business. This would consist of a mission statement, a slogan or tagline, values and approach, and other aspects of the company's internal & external communications.
• Identity Systems
Branding is about recognition and visual reference. It consists of your logo, typography, color palette, website, stationery design, packaging, brochures, flyers, catalogues, signage, store design and everything else which captures the tone and visual identity of your brand.
• Graphic Standards & Guidelines
Brand guidelines are a clearly defined set of rules and standards which must be applied and implemented across all communication channels, media, and collaterals to ensure uniformity, consistency, and standardization of the brand's visual imagery.
• Brand collateral design & production
A business needs to communicate with its customers using a multitude of interfaces and touchpoints. The website, mobile app, E-commerce store, Social Media Channels, brochures, catalogs, flyers, presentations, business cards, content strategy, SEO, online ads, and many other brand elements must be designed and produced by the company to communicate with its customers, partners, and other stakeholders.
• Customer Journey
A successful brand analyses, benchmarks and understands accurately the various stages of its customer's experience with its products, services, platforms, collaterals, touchpoints, and employees. From the first interaction, a potential customer has with the brand to the stage where they convert and become a customer of a product requires careful analysis, planning, and execution to make your customer's journey with the brand and products memorable and smooth.
Mapping a customer journey is the final stage and the culmination of all previous efforts in the brand building strategy process and will be the most important and powerful aspect which will largely shape the success and future of a brand.
Multi-media branding & graphic design expertise
We apply our multimedia expertise to assist our clients in producing branding, design, and identity across all offline and online touchpoints.
Print Branding - We help you create the full range of print branding and graphic design ranging from brochures, catalogs, advertisements, and logos to logos, letterheads, and business cards.

Outdoor Branding: Outdoor and ambient advertising is a popular medium across the world. We produce high-impact and eye-catching OOH design concepts for billboards, signage, building wraps, and Uni-poles.

Digital Branding: From website design and development to online ads and web banners to display ads and emailers - we can help with the full suite of digital and online branding requirements.
Bespoke Branding: Custom branding can help you differentiate your offerings. We produce corporate gifts, premium invitations, exhibition branding, interactive presentations, and more.
6-steps to packaging design that sells products
Professional packaging design can help you outsell your competitors and connect better with customers because great packing design stimulates human senses and a psychological connect with it. Here is our approach to producing memorable packaging design that can impact your products sales: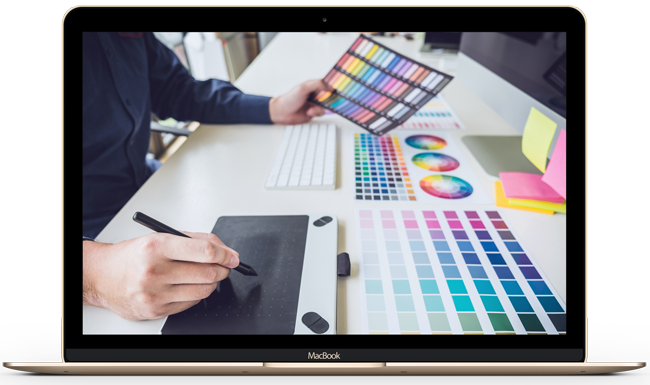 Know the competition & Industry
Nowhere else do products compete for customer attention, as they do on a shop shelf. Know the good and bad of the competition - it makes for a great starting point.

Know your customer
What's the demographic of your typical customer - know their gender, age, education, interests, relationships, and more. Research the attributes and qualities are they looking for in a product.

Keep it simple
Focus on the basics. Less is more when it comes to packaging design. Concentrate on the key product information and visual elements that the customer expects to see and read.

Focus on strengths
Use quality certifications, warranty, endorsements, expert testimonials, scientific data, etc. which are crucial elements that instantly build customer confidence & trust in your product.

Catch their attention
Of course, your packaging design must look attractive and be eye-catching. It's a fundamental aspect of human behavior - people are attracted to a thing of beauty. visually attractive packaging sells.

Highlight your quality
Emphasize quality. Of all the product attributes that consumers look for, the ones on top are pricing and quality. Find, create, research, and invent your product's quality elements and showcase them.
Designing Your Vision: Branding that Tells Your Unique Story
The 5 important elements of Branding Design
The best branding companies aim to create a perceptive visual differentiation and recognition for a brand. The goal is to separate it from the competition and to make it memorable and unique both of which contribute to making a brand stand out in the mind of its customers. Branding companies may use various methods to achieve that visual differentiation – often using specific colors or gradients, custom typography, icons or catch names. In addition, the following core components of branding can be used to enhance a brand's perception within the market place and for the customers.
Visual Identity
How the visual elements of a brand's identity are designed across customer touch-points and what feeling do they convey to an average consumer.
User experience and interface design
How the user interfaces and user experience of all customer touch-points are unified and integrated across various platforms and channels.
Taglines
Taglines are powerful affirmations and summarize the philosophy and approach of a company and its products. They help to highlight the most important brand attribute which the company wants its consumers to focus on. A professional branding company will devote a great deal of research and thought in creating a great tag line.
Audio/video sonic branding
Create and integrate audio and sensory elements into the brand's personality, a sonic effect or music segment at the end of a radio commercial or a particular kind of logo animation after a video or TV ad, adds a unique sensory branding element.
Retail locations & spaces
Customer facing retail spaces, service centers, offices and other public venues must be integrated fully with the overall visual theme of the brand
How we produce brilliant graphic designs for businesses
Your business has only one chance to make a great first impress on your customers. They judge your company based on your social media posts, business card, website and brochures and email signatures in a few seconds, and make mental conclusions about your business standards.
To make the most of limited customer interactions with your branding elements you need a professional and experienced branding and graphic design company which will use scientific and research based design, images, colors, fonts, copywriting to make an impression and help them trust your brand and remember your message.
Does your brand have a fun and easy going personality or a more formal and business, what specific demographics are your customers belong to? What's your audience persona, are your audience young, middle-aged or seniors, are they male or female or both, are they working women or home makers, are they business professionals or entrepreneurs.
Top graphic design and branding companies will factor in such research and information when they develop graphic design elements and business collaterals such as emailers, brochures, catalogues, websites and flyers. This approach makes it easy to develop high-quality business and sales materials which have a positive influence on your customers and helps make a great first impression.
How to make fabulous E-brochure/Brochure designs for your business
In today's digital first communications strategy we strongly recommend that organization's migrate to digital brochures also referred to as "E-brochures" for maximum ease of use, distribution convenience, cost savings, ease and speed of sharing and storing.
Modern E-brochures are very complex tools that can be used to produce high-impact and persuasive full blown presentation about your offerings. Our digital brochures can be designed to include multi-media content consisting of voiceover, music, sound, animation, graphics and rich media for a high-impact and persuasive sales presentation which can be browsed on multiple devices.
Brochures or E-brochures are the initial introduction to your products and services, to your customers. Your sales team will only get a chance to convert a customer if they contact them after looking at your professionally designed and well-written brochure or flyer. Business brochures, sales brochures or product brochures help start the sales process and activate the marketing funnel in conventional sales cycle. They are powerful tools to initiate a customer into interacting with offerings and as such must be designed and produced by professional and experienced graphic design companies and creative designers.
A well designed brochure with high-quality professional images, persuasively written copy and sales pitch, great design elements, colors, and information hierarchy will help you win or lose customers – simply put your success and sales depends on it. A reputed graphic design companies will have the necessary expertise and specialized talent in design, visual arts, color theory, business writing, product presentation and many more technical aspects which help you design a brochure professionally and communicate effectively with your customers.
We also help companies produce sophisticated E-brochures for consumers and businesses at a fraction of cost compared to the traditional printed brochures.
Most important factors in company profile design
Company profile as it is often referred to in the Gulf region is normally printed brochure that summarizes a company's products, and business for potential customers, partners and stake holders. A company profile design must be customized to the target audience and the type of business and industry the company is in.
A company in the B2B space and talking directly to end uses will have a totally different style of company profile compared to a business which is aimed at the B2B segment. It is important to understand and factor in the audience demographics so your final company brochure addresses the needs of the right audience using the right language, content, design style and approach.
The brochure design company must understand and leverage the audience profile for best results. The best company profiles in the contemporary sense would normally be in digital or e-brochure format so that they can be easily shared and accessed over email, website, email signatures and even chat platforms. As a very experienced branding and graphic design agency in Dubai and based on year's of experience in developing professional business and marketing materials for clients in diverse industries.
Here are we recommend the following important consideration to keep in mind when you start to design a company profile for your business.
Digital or Print: We believe this should not be even a question now. Virtually all customers are interacting with companies through their website, mobile apps or email and social media platforms – all digital touch-points across all platforms and devices. A company profile designed as an E-brochure or interactive-PDF format or responsive provides the best user experience, functionality, share-ability and immersive rich media content for best impact and consumer engagement. Here are a few important considerations when designing a company profile.
The length (number of pages): most people don't read large blocks of text and dozens of pages of content. Keep it brief and concise, 8-16 pages should be sufficient for most business but should really not exceed 20-24 pages unless there are good reasons.
Size and orientation: almost 90% of company profile format is in A4 vertical format since it is the most common paper format used by businesses. We recommend changing it to A4 landscape (horizontal) format so it is much easier to browse it on electronic devices and computer screens which are almost always in landscape format. In addition we also produce a responsive mobile compatible version for easy browsing on mobile devices.
Minimalistic Content: Consumer attention spans are down to a few seconds – company profiles should include the most important and relevant information and nothing else. Concise and summarized content with big headlines and a short sub headline and a body copy of 50-100 words will get better engagement that long paragraphs and pages of content.
Visual Design: A typical consumer in 2021 is pressed for time and short on patience. A expert graphic design agency will know that and factor it in their designs and content writing plan. You must help your readers get what they want, and get it fast. We recommend using our proven "Visual Design Approach" – our unique design style where most relevant information is shared in the form of images, graphs, customer illustrations and prominent headers so readers can read using graphics and images instead of blocks of text.
How to design product catalogs that your customers will love
Catalogs are an integral marketing tool of multi-brand, multi-product companies around the world. A good catalog design in today's information-saturated and busy world is not a simple and easy process and requires professional expertise for it to be effective and useful for customers.
Eye-catching design, user-friendly layout and product indexing, captivating images, cross referencing for each product search, producing an electronic version are some of the essentials for a professional catalog which customers use and retain. So, how do you design a catalog that is loved by your customers, as much as your sales team. Here are a few best practices to create an outstanding catalog design in 2021 and beyond.
Print is now secondary – time for digital-only catalogs.
Catalogs can be dozens or hundreds of pages long, a printed version though popular does not make it easy to search and browse and use a catalog. We recommend producing a device/digital/e-catalog version first and producing a printed version only if your customers prefer it or ask you for it. An digital version of a catalog can be much more user-friendly, easy to send and share online, post on your website, let customers download it and can include search functionality and as many pages as you like without the worry of increasing your print cost. Can you believe it Ikea just stopped printing its iconic catalog after a 70-year run.
Orientation and size – where is it being used?
Though the most popular size for catalogs is A4 vertical – it's the most inconvenient when you are browsing it on computers as a computer screen and a page dimensions are geometrically opposite. To manage this conflict – the A4 landscape size can double up nicely for both printing and should you want to produce a digital version of it for use on computers as it has virtually the same dimensions as the printed version or the digital version. A little bit of audience research can help you gather the data for their usage habits and help you further customize your catalog for the benefit of the user.
Design for humans – layout is critical
The human eye and brain process images, data text graphics information in a specific, synchronized and predictable manner. Negative space, white space, breathing space, font sizes, alignment, contrast, hierarchy, balance and color harmony plays powerful role on how people react to your catalog and if they even use it. The best graphic design and branding agencies will factor these principles and create layouts that are most compatible with, and easy for humans to process and understand.
Make it visual – people don't like data tables
Beautiful, appealing, professionally shot and touched-up images (no mobile photos please), graphics and illustrations of your products are the most essential resource for a great looking catalog. The catalog design should priorities showcasing your product and not devote precious space to technical data tables and long spec sheets. The product sequence and space allocation should also be prioritized based on how important they are to your bottom line. SKU's that contribute more to sales should be featured more prominently upfront with more space and large images than products which don't make you much money.
Feedback – Ask your audience
Talking to the people who will and have used your catalog will be the best approach to making it even better as you go along. User data or a small online survey sent by email to your customers after you have launched your catalog will give you valuable insights and help you understand how they use your catalog and specifically what aspects do they like or dislike in it. This data and insight can help you improve, refine and tweak your catalog when you refresh it at the end of the year and make it even more customized and personalized to your customers and audience.
Explore Our Services & Solutions
We offer end-to-end services and proven expertise in digital marketing, branding, website development, and AI Automation. Here are some of our other solutions.
Intrigued to know what sets us apart and drives our success in the fiercely competitive landscape of advertising and marketing in the UAE? Look no further than the people behind our exceptional work. Know more about team and people who power our agency with their unwavering passion and innovative thinking.