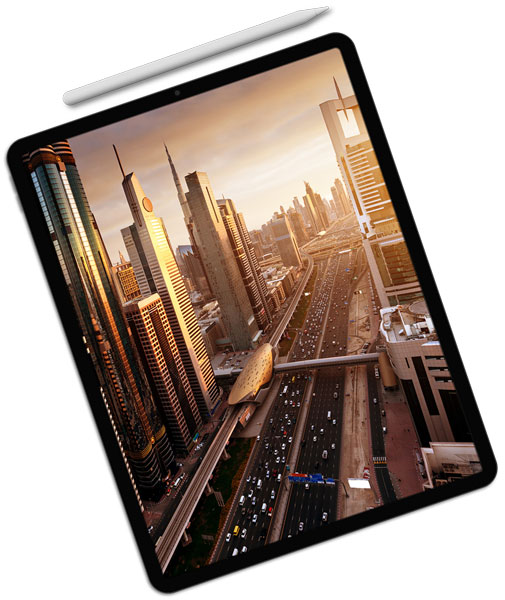 fully integrated solutions across digital & conventional channels.
We are a Dubai-based agency providing comprehensive solutions in advertising, marketing, and digital services. Our full suite of offerings includes video production, e-commerce, social media, digital marketing, and consulting, all tailored to meet our clients' specific needs.
We use data, research, creativity, and consumer insights to achieve measurable marketing results. Our focus is on achieving meaningful outcomes, rather than just vanity metrics. For nearly 20 years, we've provided clients across diverse industries with research-driven expertise in advertising, branding, media, digital marketing, social media marketing, website development, photography, and video production.

INTERNATIONAL EXPERIENCE
We are a homegrown UAE agency, familiar with the country's culture, people, attitude, and business practices. Our deep understanding of the Gulf business environment empowers companies to navigate the complex and ever-changing landscape with confidence and expertise.

PROVEN RESOURCES & EXPERTISE
Our agency is one of the few in the advertising and marketing industry that provides full in-house resources to our clients. This enables for fast, efficient, and optimized services without the quality control challenges associated with outsourced suppliers.

END-TO-END SERVICES
We provide end-to-end solutions for businesses in any industry. From strategy, creativity, planning to execution, monitoring, and analytics, our offerings cover everything. We specialize in advertising, marketing, websites, and more to efficiently meet the needs of any business.

OUTSTANDING CUSTOMER SERVICE
Consistently meeting client expectations is a demanding task. However, we have strived to provide exceptional services, solutions, and expertise to our clients for the last 15 years. Our 82% client retention rate is a testament to our customer-focused approach.
We Empower Companies
To Connect With Their Customers
We combine creative excellence with technology insights to deliver innovative results.
We can assist with a comprehensive strategy that covers all aspects of your business, market, and competition, whether your business challenge is increasing brand growth or market share, converting customers or closing deals.
Online marketing has revolutionized how businesses interact with customers throughout their purchasing journey. Social media and other digital platforms have accelerated the way consumers access, share, and process information. Brands must keep pace with these changes or risk being left behind.
At our agency, we utilize consumer touchpoints, data, analytics, research, insights, and intuition to design effective communication plans. Our goal is to build trust and establish enduring connections between consumers and brands.
Building your brand with video content production
Video content is crucial for successful social media and online marketing strategies, as it leads to higher engagement and shareability compared to other forms of media. Therefore, video marketing should be a cornerstone of your online marketing plan.
It is predicted that by 2022, 86% of Internet traffic will be video-related – a 1500% increase from 2017. Video is considered a more immersive, personal, and engaging way to share brand information with consumers. Regardless of where customers are in the marketing funnel, video can inform, educate, attract, inspire, and entertain them, leading to a higher level of interaction with your brand.
Our expertise in video production allows you to easily create a successful video marketing strategy within your budget. We help companies integrate video content into their marketing plans, and create engaging branded videos that showcase products, services, or ideas. With video being the most consumed content on social media, it is an effective tool to connect with customers and build lasting relationships.
We have expertise in diverse industries and in both B2B and B2C segments in the region. We have evolved to offer our scalable and customizable solutions to companies of all sizes, across a broad range of industries in commercially diverse markets. Here are some of the local and international clients we work with.
 Our clients are Fortune 500 companies as well as local SME's and startups operating in the UAE and over 12 other countries. From telecom and hospitality to FMCG, healthcare and real estate we serve a variety of sectors. Whether it's a new tech startup looking to develop a internet strategy or a global multinational seeking to enter a new market we have the expertise to translate challenging goals into realistic plans. Our clients have come to expect end-to-end solutions from us to meet their online marketing,  advertising, video, and digital marketing requirements.
Know what drives us to excel in our work. Discover the people and talent who power the company. Understand our approach, strength, passion that has helped us become one of the best advertising & marketing agencies in the UAE.

Synergy has created a unique position in the marketplace as a dynamic, innovative, and client-focused full-service advertising agency. Read more about how we do things.
We work with clients across many industries and sectors. Our clients include fortune 500 companies and local SME's who have very distinct needs and expectations.

Our full-service expertise includes leading-edge services and solution in video production, Digital Marketing services, Branding, and Graphic Design, and more.
Experience: Our clients are the best judges of our work and how good we are at it. Read what they have to say about their experience working with us.

Our highly-skilled designers and programmers are proficient with the world's leading web and e-commerce products, services, and tools and develop reliable online assets.
We believe in utilizing the most suitable tools and resources for providing creative original and well-researched solutions and ensuring best practices are complied with.
Intrigued to know what sets us apart and drives our success in the fiercely competitive landscape of advertising and marketing in the UAE? Look no further than the people behind our exceptional work. Know more about team and people who power our agency with their unwavering passion and innovative thinking.