We Are Leading Graphic Designers In Dubai
SEND US A MESSAGE & we'll call you back
High-quality, Affordable Graphic Designing Services in Dubai
Graphic design is a creative expression of the intrinsic values & visual elements represented by a brand - adapted to the diverse channels, media, platforms & devices, inhabited by the brand. As top graphic designers in the UAE, we create amazing, effective, and memorable graphic designs across print media, online channels, social media, outdoor, event marketing & bespoke projects.
Professional graphic design is an essential component of the modern marketing function, from brochures, catalogs, packaging to web banners, advertising, presentations, and social media posts it is the most frequently utilized creative expertise. For over 15-years, more than 2400 very satisfied clients have depended on our creative capabilities to produce original, persuasive, and impactful graphic designs. We assist companies with the best communication methods that can inform, educate, influence, and inspire your audience and build trust and admiration for your brand. Here are our graphic design solutions:
Best Practices For
Graphic Design
Professional quality graphic design and branding makes a big impact on your customers and builds trust and confidence in your brand. It is therefore vital to utilize the expertise and services of the best graphic design companies who have the necessary skills and capabilities to produce high-end work. To get the best results a combination of design insights, colors theory, visual assets, writing, aesthetic typography, and lots of imagination. Here are a few other important factors that can help you get better results: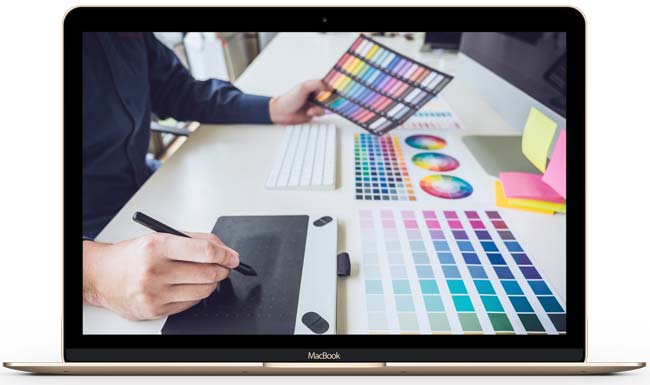 Research & Need Analysis
When you start to create a graphic design project, you should have a clear and well-defined understanding of the industry trends, competitor benchmarks, customer preferences, trending styles, best practices & the objectives of the end product.

Target Audience Demographic
Who is your audience and what are their expectations with your design? this question can help you determine a lot of variables of your graphic design. Their age, gender, language, cultural factors, education can all impact how your design is conceptualized.

Creative Style & Approach
Creative styles describe the look, feel, mood, colors, typefaces, image styles, layout structure, and other technical elements that will determine the final appearance of the collaterals and graphics being designed and marketed.

Quality Images & Graphics
The sophistication, elegance and efficacy of your graphic design elements are greatly impacted by the quality of photographs, graphics, illustrations, icons, textures, backgrounds, and other visual assets that will be used in the design.

Relevant & Concise Content
When designing marketing collateral such as brochures, flyers, presentations that require written content, it is crucial to produce concise, relevant, well-structured, professionally written content that provides important information to the audience.

Delivery Platforms
Delivery platforms, consumption channels, and media vehicles differ widely in terms of the graphics and design standards used on each. Graphic design style, approach, and methods will have to be adapted based on the type and format of your content.
Need advice, a free consultation, or want to get started with your project? We will be happy to assist. Kindly submit the form below or better still, give us a call on the customer hotline number below for immediate assistance.
CALL FOR A FREE CONSULTATION